I guess I am a "music" "blogger" so I need to come out with a douchebag year's best albums post. Because that's what ultra cool bloggers do, they fall asleep on Saturday night and wake up once it's too late to go out and post on the internet :(
10. H20 - Nothing to Prove
Rounding out the top 10 is NYHC band H20. This is a band that I have straight up NEVER liked over my years involved in hardcore. When my friend Jay-Hu told me to check out this album I treated it with a healthy dose of whatever. Man, was I wrong. H20 have made the perfect album about sticking with hardcore regardless of how "passé" it might be amongst hipsterdom. Where Fucked Up is popular for evoking first generation hardcore and merging it with bells and whistles, H20 gives us something devoid of any trickery. This is an extremely solid melodic hardcore album with great lyrics that really strike a chord with me. STAND OUT TRACK = STILL HERE.
9. Coeur de pirate -S/T
Young francophone songstress Coeur de pirate is making pretty big waves with her self titled debut. This is an album that I have had on repeat for full afternoons of writing, lying down and thinking of greener pastures. Like I said when I wrote about her a few weeks ago she sounds like a mix between Cat Power and Françoise Hardy which is maybe the best complement I can give to a woman. Now the question is can she avoid the guaranteed rock journalism backlash! STAND OUT TRACK = POUR UN INFIDÈLE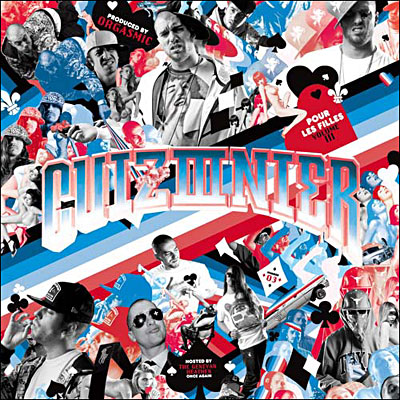 8. Cuizinier - Pour les filles vol. 3
TTC squadron keeps on pumping out track after track of quality. Yelle might have got a bit more buzz off her Cuiziner diss track but she has re-released that song 3 times now. All the while Cuizinier has been involved in a new album as well as THREE mixtapes. He says he will answer her eventually and I think it's gonna hit a whole new level of post-feminist fair game misogyny (which is totally awesome BTW). Anyways the 3rd mixtape is totally great. He's able to mix American hipster rap, French hipster house and mainstream B.E.T. r&b-hop and just make into something special. The song GIRLS showcases this perfectly. It heavily samples Blur and features Baile funk's biggest star Marina (formerly of Bonde Do Rolle). Young Cueezy holding it down. STAND OUT TRACK = GIRLS and MESSAGE PERSO.
7.Vivian Girls - S/T
You know I love theatre but a lot of times I'm sitting there and stuff goes way over my head due to extreme weirdness. Hard art is great and all but man 2 and half hours is long to sit through a bloody man foetus doing a one man show. That's why I love one acts. In and out and I get it! Vivian Girls play some beautiful weird music that harkens back to 60s girl bands and surf music. However it clocks in at less than 30 minutes which is amazing. This album creates a weird and mysterious world, doesn't overstay its welcome and leaves you wanting more. Up and coming indie bands take note of this. STAND OUT TRACK = TELL THE WORLD.
6.Dillinger 4- C I V I L W A R
Punkrock, Hardcore, whatever you want to call it is a the greatest drug man will ever know. I still remember my first time in an all ages space getting my mind blown square off by this full on sensory assault. Nothing can ever come close to equalling that first high. Dillinger 4's C I V I L W A R is not the second coming of Christ but damn is it a legit punk album. It's like a veteran junkie who's got almost no veins to stab but he gets his hand on some real good heroin. It's never going to be like the first high but damn is this good heroin and it's an afternoon well spent. C I V I L W A R is like that for me. It's also a perfect conclusion for the past 8 years we've all gone through. A perfect send off for G.Dubya... Bush punk at its finest! STAND OUT TRACK = AMERICASPREMIERFAITHBASEDINITIATIVE.
5. Diplo/Santogold - Top Ranking
A real late addition to my list but WOW! I'm surprised seeing Santogold's album in the top 10 of all these yearend lists as I have been listening to the tracks on that disc since 2007. This mixtape however is like a musical treasure chest, a pirate radio show from another planet! From the new Santogold tracks to the friggin intense ragga dancehall and the wonderful hip hop mashups. It might not be a conventional album but this is easily the most listenable album of the year for me. It's 70 minutes long but it feels like a maxi single as time flies when you are having fun! STAND OUT TRACKS = GUNS OF BROOKLYN and BIG BELLY GUNS.
4. Kid Cudi - A Kid Named Cudi
Mr. Cudi is the owner of the year's best song DAY N' NITE and it's on this mixtape which does a lot to bring it up my chart. More than Lupe this guy is the next step in Kanye inspired hip hop evolution. The format of hip hop is surprisingly still very much underused in terms of what we can do with it; Cudi (like Kanye) is way ahead of the game here. This album is free and you should do yourself a favor and get it. If he's not a superstar in 2 years I will eat my hat. I believe in Kid Cudi. STAND OUT TRACK = DAY N' NITE and DOWN AND OUT.
3. Vampire Weekend - S/T
Oh man did I want to hate this, I just can't though. This is one of my most listened to albums of the year. I hate being on team-pitchfork or team-spin but It's just fun and good yo. I've had so many pathetic moments with this album. Like being on my school campus this spring while the song campus is playing and seeing a recently ex gf on the lawn in front of the theatre department, all the while feeling sad, wearing a keffiye and limited edition Nikes thinking about how god damn cliché I am, hahaha! Jesus I'm a loser, man fuck this band. STAND OUT TRACK = Almost all of them but CAMPUS and OXFORD COMMA
2. Kanye West - 808s & Heartbreak
Kanye West is the most important mainstream artist of our generation. People just hate him for the sake of hating him. This guy puts in so much work and effort at being good that I can see how frustrating it must be to not receive the full appreciation from the music press. A bad break up and the death of his mother pushed him to completely forego a traditional rap album. Luckily this is something he can do because he's fucking Kanye West. It reminds me a lot of New Order and that is something I could have never predicted from Kanye. The only thing missing is Joy Division/New Order like killer baselines. In an interview he said he wanted be like a Thom Yorke you can blast in the strip club. What an amazing dude! I wish I could be part of his entourage I think we would get along real good. STAND OUT TRACK = ROBOCOP AND STREET LIGHTS.
1. Fucked Up - Chemistry of Common Life
One of the most important records in recent history. They have been getting some backlash in the hardcore community but fuck it. This thing is going to be remembered. I liked Hidden World but I think that album was a warm up session for what they wanted to do on Chemistry of Common Life. It's funny they are one of the best live bands out now yet this album is almost unplayable live. Which at the end of the day gives us two distinct "albums", them recorded and them live. It doesn't have as many listens as most of the albums on this list though; it's not an album that you can really listen to the tracks by themselves. I just put this on and drink a big old rum and diet Pepsi before going out to the bars. Neo-Neil Young in a lot of ways. STAND OUT TRACK = none, you should listen to it in its entirety. That being said, TWICE BORN.